Putting Quality Learning Principles to Work
The intensive Three or Four Day Langford Learning Seminar introduces Quality Learning principles, history, tools, and applications to learning. Participants will gain the vision, purpose, and capacity for quality implementation in classrooms, schools, and learning organizations.
The Three or Four Day Seminar foundation is grounded in implementing the Deming SoPK (System of Profound Knowledge) in learning organizations.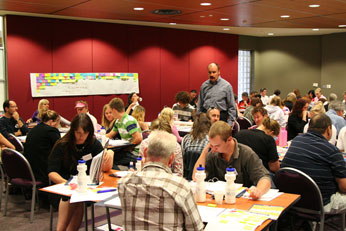 Dr. Deming's System of Profound Knowledge consists of:
Theory of Knowledge
Appreciation for a System
Understanding Variation
Psychology
David P. Langford always facilitates the seminar. Mr. Langford will provide case histories that illustrate the successes and pitfalls associated with implementing quality improvement methods in education, government, and corporate environments.
Participants will learn:
New ways to strengthen and build the relationship between learner and facilitator.
How to create an educational environment where learners are responsible for learning
How to build systems that enable learners to make choices and give them experience in self-evaluation
How to develop and maintain intrinsic motivation for learning.
Through an interactive multimedia process, participants will study learning concepts, how to improve learning systems, how to gather data, and how to work in teams.
The seminar explores the following essential Langford Learning concepts and tools:
64 Improvement Tools from the Tool Time Handbook
Probletunity Process
Neuroscience
The Deming System of Profound Knowledge
Capacity Matrices
Portfolio Development
Exponential Learning
Intrinsic vs. Extrinsic Motivation
Teaming and Teamwork
Result-Oriented Learning
Process Learning
Improvement vs. Change
Data-Insight Decision Making
Performance Learning and Leadership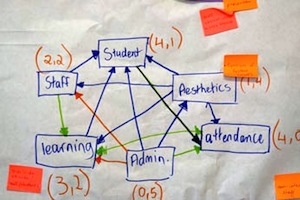 The Three Day Seminar runs 8:00 a.m. – 5:00 p.m.
The Four Day Seminar runs 9:00 a.m. – 4:00 p.m.
The course delivery and materials are the same in both seminars providing 24-hour course content.
For more information on hosting a seminar, including costs and scheduling, please contact us.
"I learned what real learning is all about – a constant reflection of one's progress toward attainable goals based on one's prior experiences and knowledge. I wish I would have been taught this way! Thank you very much! Wonderful!"
– Alesha S. McCauley, ESL Senior Administrator (North Carolina, USA)
"All of the complaints that I hear at school from other teachers center around student motivation: "The kids do not care," Should we really give them rewards for things they should do anyway?". I am excited to bring this new learning into my classroom and help my students reach a new level of learning. Thanks for a great conference!"
– Ashley Mobley, Elementary Teacher (Urbandale, Iowa, USA)
"I can use the tools, beyond the initial feedback processes, to narrow and identify what to work on and how to develop plans for improvement. I have identified how to begin a challenging conversation about grades and grading practices with an idea of how we can study the issues with volunteers from what I have learned in the past few days."
– Barbara Spelman, Principal (Leander ISD, Texas)