Introduction to Quality Learning and Probletunity PDSA
This online course introduces you to Quality Learning principles, history, tools, and applications to learning. Gain the vision, purpose and capacity for quality implementation in your classroom or organization.
Langford Quality Learning applies statistical thinking, human interaction techniques, and philosophies of Quality to the learning environment. course focuses on the Deming philosophy of Profound Knowledge as it is applied to learning organizations. It incorporates brain research, current learning, and teaming concepts and techniques, as well as effective uses of technology to improve learning environments.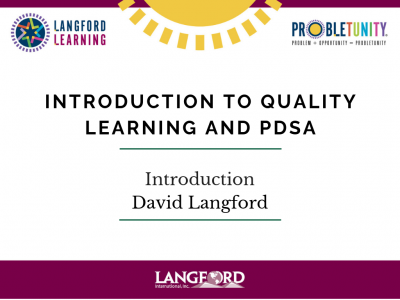 Dr. Deming's System of Profound Knowledge consists of:
Theory or Knowledge
Appreciation for a System
Understanding Variation
Psychology
The seminar is always presented by David P. Langford.  David will provide you with case histories that illustrate the successes and pitfalls associated with implementing quality improvement methods in education, government, and corporate environments. You will learn:
New ways to strengthen and build the relationship between learner and facilitator.
How to create an educational environment where learners are responsible for learning.
How to build systems that enable learners to make choices and give them experience in self-evaluation.
How to develop and maintain intrinsic motivation for learning.
Through an interactive multimedia process, you will study learning concepts, how to improve learning systems, how to gather data, and how to work in teams. The seminar explores the following essential Quality Learning concepts and tools: