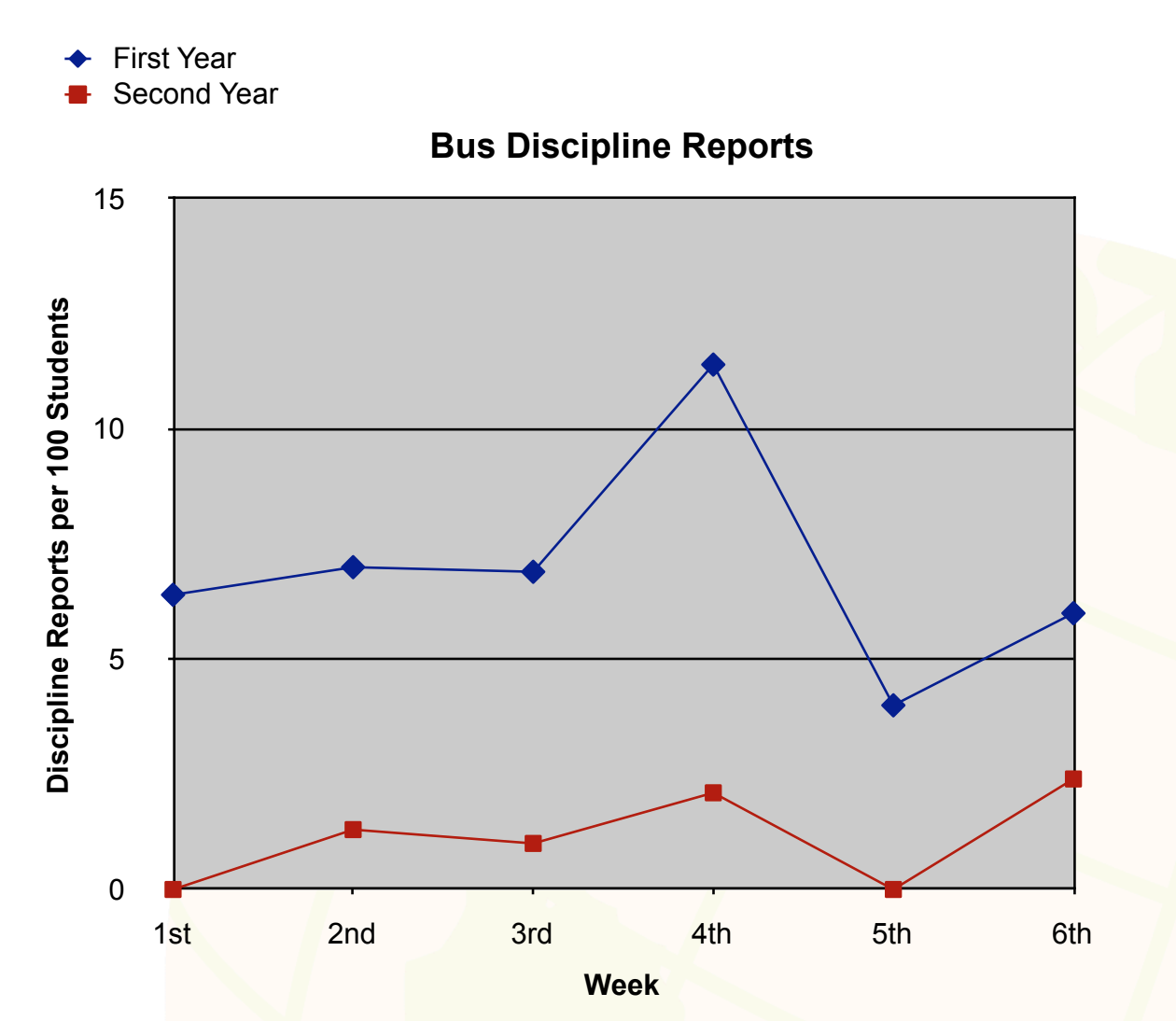 The Bus Blues by Monta Akin with Sande Powledge 
I stared at the stack of bus discipline reports on the corner of my desk. Well, there goes my day, I thought. Another day of trying to translate the bus driver's comments in a way that makes sense to misbehaving elementary school students. Another day of listening to explanations and excuses from students. Another day of knowing that nothing I do seems to change behavior and make the problems go away. 
Deep sigh. 
And then I thought back to something I had heard at our Continuous Improvement Institute meeting the night before. "How do we find time to do any of this stuff?" we had all lamented. "We're lucky if we get home in time to see our family for dinner as it is!" 
"Well, first off, you can't do it all at once," the meeting facilitator had said. "You just have to find a place to start. Think about some part of your job that takes a lot of time—time that you don't think yields a lot of benefit to anyone." Well, bus discipline certainly fit that definition. "Work on applying what you know to that situation. If you can improve that situation, maybe you can gain just a little bit of time." 
Phrases started drifting into my mind. Work upstream to prevent problems. Gather data on the current situation. Involve all the stakeholders. Imagine the perfect. Use tools. Chart the data over time. Continuously improve. 
* * * * * * * 
The next day, I invited all the bus-riding students (not just my special buddies who traipsed in and out of my office) to join me in the cafeteria. I stood and faced the group of squirming students. Their bus drivers were sitting in the front row, too. "We all have a problem," I said. I wrote a number on the board: 
469 
"This is the number of students who came to talk to me last year because the bus driver told you you had misbehaved on the bus."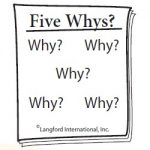 They were even more shocked by the high number than I thought they would be. Now it was time to pull out the Five Whys tool. 
"Why would we want to reduce the number of times that students misbehave on the bus?" I asked the group. 
"So kids aren't acting up on the bus." 
"Why don't we want kids acting up on the bus?" 
"So they don't bother you." 
"Why don't we want kids bothering each other on the bus ride?" 
"So our bus driver doesn't have to stop the bus and talk to them." 
"Why don't you want the bus driver to have to stop the bus?" 
"Because it's not very safe and it takes longer." 
"Why do you want the ride to not be so long?" 
"So we'll enjoy the ride more." 
After our discussion, we all decided that our goal was to have a safe, enjoyable bus ride to and from school.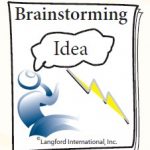 Whew! 
"Okay. Since we want a perfect bus ride that is safe and enjoyable, I want you to think about what each person on the bus would have to do." (I distributed 3 or 4 sticky notes to each person in the room and put them in pairs so younger students could brainstorm with an older student. Of course, the bus drivers participated, too.) "Only put one idea on each sticky note." 
After we organized their ideas into an Affinity Diagram, we reviewed the ideas with the whole group. 
"Let's see what you said. A bunch of you said that everyone needs to stay in their seats…don't yell…talk only to people next to you…don't hit or throw anything. If this is what you think we have to do to have a safe and enjoyable bus ride to and from school, what do you think we already do well?" 
I listed their responses on the Plus side of a Plus/Delta chart.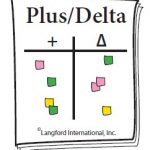 Then I asked the group, "What do we need to improve?" 
I listed their responses on the Delta side of the chart.
I ended our session by asking them to think about what they were each going to do differently the next day, and thanked them for their time and their great ideas. 
In the following year, we met very briefly each week to chart our progress and determine the need to make improvements. 
Did it really make a difference? 
Well, a picture often speaks louder than words. Here's the data for the next two years after our improvement sessions. 
Bus Discipline Reports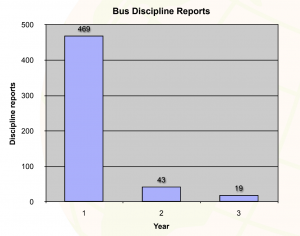 Or, looking at it another way . . .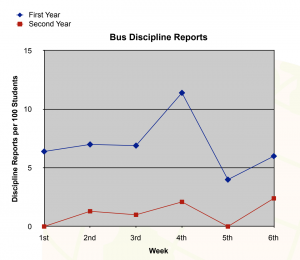 Obviously I was thrilled with the results, as well as the time it gave me to learn and work on improving our school. And—even more important—we had a group of students celebrating their accomplishment . . . enjoying a safe bus ride to and from school. 
– Sande Powledge 
The Leander Way: Working upstream to prevent problems by involving all stakeholders in improvement can yield phenomenal results. What is something that takes a lot of your time—time that you don't think yields a great deal of benefit to anyone? Is there a way you can involve all the stakeholders in preventing the problems before they occur? 
Published with permission: February 2010